History
---
The USA Halal Chamber of Commerce, Inc. was officially formed and registered in 1997 by the founder and current CEO Habib D. Ghanim, Sr. While working at the U.S. Arab Chamber of commerce during the 1990's as a certification officer, he was in charge of all documentation related to shipments going to the Middle East that needed legalization from the Arab Embassies. During this time he began to field many questions about the validity of the claims about many products being Halal (mostly meat and poultry). It was also during this time, around 1995, where he began to help raise awareness so people would know more about Halal products and where they could find them. Over the next couple of years delegations from Malaysia and Singapore came to the U.S. and interest in halal continued to increase. That is when Mr. Ghanim decided to formally begin certification of products and formed the USA Halal Chamber of Commerce, Inc.
As the industry continued to grow, a group of Halal certification bodies decided it was time to form a coalition to promote halal certification standards and practices. That led to the formation of the World Halal Council in Jakarta, Indonesia in 1999. This group consisted of certification bodies from North America, Europe, Africa, The Middle East, and Asia.
Starting in the early 2000's as the industry grew, so did the regulations regarding halal certification. What began as an industry for raw meat and poultry quickly began to expand to other areas such as processed foods, cosmetics, and pharmaceuticals. This led to halal certification bodies getting recognized and accredited by international organizations and governments which increased accountability. In 2017 we gained accreditation from the GCC Accreditation Center (GAC) and in 2019 from the Emirate International Accreditation Centre (EIAC).
In 2005 the USA Halal Chamber of Commerce, Inc. was endorsed by the Islamic Society of the Washington Area, a local mosque, and began to conduct business as the ISWA Halal Certification Department. Both the mosque and the chamber are and always have been completely separate legal entities and continue to be to this day.
In our ongoing mission to support and promote halal products and services we regularly participate in many events annually such as World Halal Day, which takes place on the 17th of Ramadan, along with several expos and trade shows both within the US and internationally.
As the halal industry continues to grow and expand so do the regulations, which is why we continually keep up with and participate in training for all relevant standards from ISO, UAE, GSO, Malaysia, SMIIC, Egypt, and Singapore among others. Also porcine and other testing has become a requirement of all companies that are seeking halal certification. We will continue to be at the forefront and uphold the highest standard for all halal products so that anyone that consumes a product that is certified by us can have the utmost confidence that they are using products in which there is no question about their halal status.
About Our President
---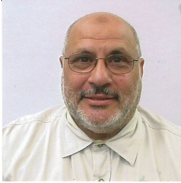 Habib D. Ghanim, Sr., President and CEO of the USA Halal Chamber of Commerce, Inc., is a pioneer in the Halal industry.
As the CEO of a Halal certification body, he supports and uplifts the Muslim community and has encouraged Muslims in the community to be more politically active. He is involved in various projects that provide aid to those in need in the community, such as providing financial assistance, feeding the hungry, or helping with funeral arrangements. He has provided aid and support to various organizations, such as Islamic Relief USA. He also supports the American Muslim Senior Society, which supports seniors in the community by preparing and delivering meals to seniors who need assistance. Initially, his goal was to make sure that the Muslim community received Halal meat and poultry. It has now expanded into providing other products. He was also one of the first members of the Council on American Islamic Relations (CAIR) and the Arab American Institute (AAI) and is currently a member of Concerned Muslims for America (CMA). Through his life, he has been involved in various Muslim American organizations, including ICNA (Islamic Circle of North America), ISNA (Islamic Society of North America), MCC (Muslim Community Center), and AMC (American Muslim Council), where he managed their Halal certification. In the past, he was involved in the Star and Crescent Program, which put a Star and Crescent decoration on the White House lawn during the holiday season, next to their Christmas tree and menorah decoration.
He also promotes interfaith cooperation. He has maintained a relationship with leaders of the kosher industry, such as Star K, and often attends Kosherfest which is an annual food shows for kosher foods. He has also established relationships with federal regulatory bodies, such as the USDA and the Department of Agriculture.
As a leader in the international Halal industry, Mr. Ghanim attends various Halal conferences, meetings, and trainings around the world, including the World Halal Summit, the Gulf Food Show, and Saudi FoodX, and has contributed to the establishment of certain international Halal standards.
Photo History
---
Picture

Event and Date









World Halal Expo
November 2008















International Conference on Muslims in Multicultural Societies-Singapore
July 14-16, 2010










Islamic Finance Training California, USA
2011










American Association of Halal Certifiers (AAHC) –Maryland, USA
2011










Al Azhar Delegation from Egypt Maryland, USA
2014










Beef Plant Kansas, USA
2014
















World Halal Summit - Malaysia
April 1-3, 2015










USDA Round Table Washington, DC USA
Ramadan 2015















Hosting a Delegation from the Philippines Embassy Maryland, USA
2017















World Halal Day Celebration (17th Day of Ramadan) Maryland, USA
Ramadan 2019
















Halal Expo and Summit Virginia, USA
2019










Ministry of Religious Affairs Indonesia
2019










World Halal Council (WHC) 20th Anniversary Celebration Indonesia
2019










World Muslim League Meeting Makkah, Saudi Arabia
2019










Honor Our Heroes- In the Struggle to Stop Genocide Event Virginia, USA
March 7, 2020










Social Distancing World Halal Day Webinar- (COVID-19) Maryland, USA
May 12, 2020 (17th Day of Ramadan)