Application
---
Halal Schemes Offered
Category Code

/Scheme/

Sector

Categories

Products

C

Processing 1 (Perishable animal products)

Beef, Poultry (chicken), Fish, Cheese Enzymes, etc.

D

Processing 2

(Perishable vegetable products)

Dried Pepper, Peanuts, Dates, etc.

E

Processing 3

(Products with long shelf life at room temperature)

Isotonic Drinks, Date Syrup, Processed foods, Snacks, etc.

J

Transport and Storage

Warehouses, Trucks, etc.

L

Chemical and Biochemical manufacturing

Dietary supplements; cleaning agents; processing aids, Lubricants, etc.

N

Other materials manufacturing

Cosmetics, etc.
---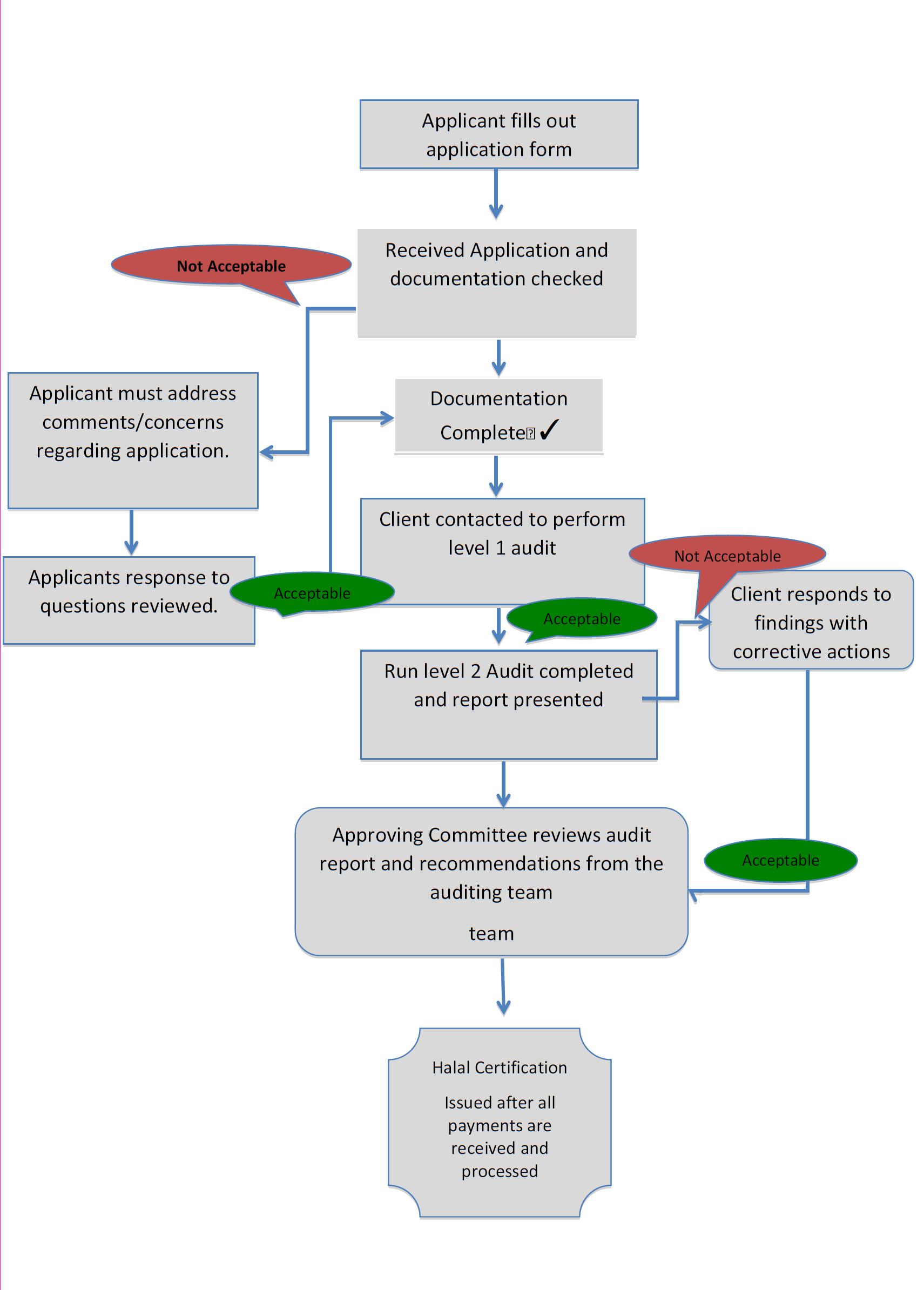 Our certification is recognized worldwide.


Specific inquiries on location can submitted here
In order to become Halal Certified please refer to the steps below:
Application Fee: There is a $200 non-refundable, non-transferable application fee to submit an application for Halal Certification. Each plant/facility must pay a separate application fee.
Visit our website and thoroughly read through the guidelines at www.ushalalcertification.com/guidelines to ensure that your company is able to meet all requirements prior to submitting an application.
Click on the application tab (which is the current page you are on) and completely fill out the online application form. Make sure you attach all ingredients list, animal/meat sources (if applicable), and/or any other certifications (i.e. FDA, USDA, Organic, Kosher, SQF, BRC, ISO,). We must check that your items do not contain any Haram (unlawful) products in them. They should be uploaded in the section which asks for the Halal certifications for all meat sources, there you attached ingredients lists and etc. While filling out the application, whatever sections do not apply to you, please write N/A.



For all further processors (meat and poultry):

For the applicants sending products to the GCC countries, all raw materials have to be from a plant with GSO approved raw material sources. Contact us separately to inquire.





***Note: We do not accept any raw material that has come from a plant using temporary immobilization by gas aka gas stunning (CAS). This must be verified. ***





We need to know all countries that you plan to send your products to. This must be indicated on the application.



New membership applications are reviewed once a month.
The following week after the review committee meeting you will be notified if your application has been provisionally approved and the invoice for the membership fees are sent.
If you have been provisionally approved, you must contact us and schedule an initial audit of your plant/manufacturing facility.
After your application has been approved an audit may take up to 6 months to conduct.

Certification Cycle is a 3 year cycle:


Year 1: New (Level 1 and Level 2 Audit completed)
Year 2: Surveillance
Year 3: Renewal- the renewal process will begin 3 months prior to the expiration date.
Note: Special unannounced Audits can be conducted at any time during your certification period.

Invoices for any remaining fees are sent.
The audit team will submit their reports after the audit is complete.
Any Non-conformities issued during the audit must be cleared before the decision committee can grant certification.
Paperwork including halal certificates are sent after all payments are made.
Please note that to keep in good standing with your Halal certification, annual testing is required. Visit our testing site for more information: Testing
Audits are not done one-time. Audits are done throughout your certification period to remain in good standing.
***During your certification period, your company is responsible for keeping up to date on any changes in standards and guidelines***
Application Fee: There is a $200 non-refundable, non-transferable application fee to submit an application for Halal Certification. Each plant/facility must pay a separate application fee.
Costs:
Please email us at info@ushalalcertification.com if you want to receive a copy of the costs for certification.